Welcome to the farm!

We're glad you've found us and hope you'll stay awhile!
Whatever your purpose for visiting, we hope you leave encouraged and inspired. We're a small farm with big dreams for impacting our community. Our heart is to nourish the soil and grow healthy harvests while building relationships with people and helping them to eat well and be healthy! Enjoy the site and be sure to come and visit in person at our market booth or at the farm!

Update for 2014 Season!!
Hey y'all! It's been a cold winter and we're happier than sheep on new pasture to be back in the garden again!
A couple of changes this year, the biggest is a new baby! Due mid August 2014. We're excited and can't wait to meet our new child! If you've been counting you'll know that this is our 3rd in about 3 years and boy do our little's keep us busy. This year considering our children we are being painfully realistic about what we can accomplish and grow on the farm. Our plan is to look at this year as an establishing and maintenance year. Josh has been busy all spring planting fruit trees and blueberry bushes in our new permaculture orchard (woo hoo! so exciting!). We plan on planting lots of companion plants around those trees and spending time watering this summer to give them a great start. Being a young farm we still have several outbuildings that we need to build (honey house, equipment shed, ect.) and of course we want to invest in our most valuable resource, our soil!!
So what does this mean for you???
Well, first of all we're cutting back on our mark
ets. Sadly WE WON'T be attending the Greene St Market this season but WE WILL be at the
Madison City Farmers Market
on Saturday mornings though probably not as regularly as in the past. We plan on pouring more time and energy this year into growing chickens which is great news if you like chicken and also great for the health of the soil. More chickens, more poo, more nutrients in the soil for next years crops! We also will be managing our bee hives more intensely hopefully meaning more delicious honey for you!!! Our garden plot though MUCH smaller this year than last, will hopefully still produce an abundance for us to share at market. Be looking for unusual greens, lots of garlic and garlic scapes, ground cherries, and hopefully delicious heirloom tomatoes, peppers and tasty melons. It's gonna be a great year!
We so enjoy being a part of the TN valley food community. Thank you for your support as we grow as a farm and a family!
Looking forward to seeing you at market!!
---
WE GROW PASTURE RAISED POULTRY!
PRE-ORDERING FOR 2014 SEASON AVAILABLE NOW!

---
Get to know us....

Eat Wright Farm is a Family Business!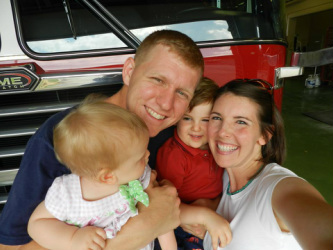 Josh, Morgan, Owen and Autumn Wright
Josh, Morgan, Owen and Autumn Wright
.
We're the crazies of the bunch, always with big ideas and often times too much ambition. Josh and I (Morgan) run the farm and sell at the markets but in no way stand alone in the work.
Jerry and Susan Wright
(Josh's parents) live down the road and around the corner. They contribute to market from their own amazing garden and hen house, are our wise counsel, equipment loaners, babysitters, market help and so much more.
Brad, Caitie, Olivia and Elizabeth Leiter
. Caitie is Josh's sister. She and Brad live just a mile away and are never far from the activity on the farm. Caitie and Susan make the wonderful goat's milk soap we feature at our booth. A brand (Dandelion Soapworks) that shows up in several small Huntsville shops and is soon to be available in our
online store!
It takes all of us to make it work, truly a family business!
---
Pictures of our family, farm, home and heart...

---
The Farm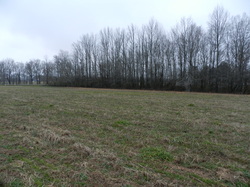 The new Eat Wright Farm January 2012
In January of 2012 we were blessed to purchase a 6 acre hay field within walking distance from our home. We have 2 acres of woods and 4 acres of open ground that we've been diligently developing into a useful farm. This year, (2014) we've taken our first steps into permaculture, planting the farm in fruit trees, berry bushes and beneficial perennials! We hope to continue learning and establishing a healthy ecosystem farm that will provide fruit, food, and medicine as well as a habitat for many creatures and bugs. It's been encouraging to see life and diversity come back to the soil as we pasture our chickens and sheep. As of Spring 2014 our bees are finally housed on the farm! It's great to work with such tireless partners and a joy to have them in the garden with us.

Our Practices
We believe that HEALTHY SOIL = HEALTHY PLANTS = HEALTHY PEOPLE and will continue to increase the fertility and life of the soil through adding organic matter, cover cropping and good animal management. We are FIRMLY committed to growing produce organically (and then some) without the use of harmful chemicals and unnatural fertilizers. We believe that nourishing the soil is the key to providing nourishing food for people. To us, being a farmer that does things wRIGHT means getting back to being a steward of the land and a tenant of quality while actively being the bridge for people to experience good, wholesome food. We welcome you to come and visit the farm and personally see how your food is grown!

---
---
Roots of the farm, the people who care for it.... more about your farmers.

Josh
was raised in Madison, AL, in a subdivision surrounded by cotton fields. Susan loves to tell me stories of Josh's childhood.. how he tilled up their shady backyard and was determined to grow a garden, of his squirrel hunting escapades and the flock of ducks he raised that took over the back yard and provided the best fertilizer the grass had ever known. When Josh was 17 his family made a drastic life change and moved onto a piece of property in Limestone Co. where they set out to conquer the land, build their own cabin and grow all their own food. It was during that time that Josh gleaned most of his gardening know how and also when they first started selling at the Madison City Farmers Market in the warehouse in downtown Madison.
Currently, Josh works for the City of Huntsville as a firefighter. While he enjoys his job, his passion and heart is to farm! Growing things is fun and rewarding but it's also financially risky. The firefighter job and schedule gives him the flexibility to pursue his passion and security of reliably providing for our family! We're so thankful for this opportunity!
(
Morgan
) A love for digging in the dirt started at a young age for me as well. My grandfather grew a beautiful vegetable garden every summer in Colorado, where I'm from. I have many fond memories of playing and eating, learning and helping in his garden. When I was in high school I longed for those sweet times and planted my first Alabama garden. My 'growing' hobby became a business at my father's prompting after I graduated high school and needed to 'find a job'. Thus, 'Glory Gardens!' came into being and I enjoyed two wonderful years cultivating the soil and selling the glorious bounty at the Madison City Farmers Market.
Josh and I were married in April 2010 (in a garden of course) and since have been blessed with two children and a third on the way! It's often a challenge growing the business and raising a family at the same time but also a joy knowing our little ones are close by and will be able to work alongside us as they grow.
More than anything we have a passion to help YOU enjoy great health! We still have a LOT to learn and consider it an honor to be trusted with the growing of your food. If we can help you in any way, don't hesitate to contact us, we look forward to serving and getting to know you!
---